Are your clubs right for you?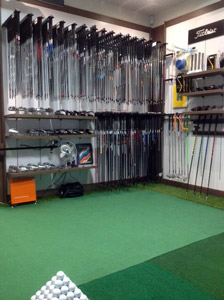 Every golfer's swing is unique and has different requirements from their equipment, including length, lie, loft, shaft flex and grip thickness. We pride ourselves on offering a comprehensive fitting service for all levels of golfer beginning with an interview, followed by static measurements and then dynamic measurements including use of the latest computerised launch monitor - TrackMan, which gives instant feedback with accurate comparison. TrackMan is a radar based tracking system providing unrivalled accuracy.
I believe that we will help you to:
Improve your ball striking and increase enjoyment
Lower your scores
Provide exceptional service with honest feedback
Provide bespoke personalised equipment at exceptional value
Provide you with the correct clubs to ensure that no distance gaps exist
We offer leading brands including:

Your Custom Fit session will be carried out by a PGA Professional who is trained in the latest fitting techniques. A session typically lasts in the region of 60 minutes. A fee of £50.00 is charged for this service, however should you go ahead and make a purchase, then £20.00 will be deducted from the price.
We can fully fit you for Driver, Fairways, Hybrids, irons, Wedges, Putter
Club Partnership
At most retail outlets, when you leave the store with your new clubs that is the end. At Ian Mowbray Golf Retail, that is not the case. I see it as the beginning of an ongoing relationship. We strive to make sure that you are happy with your new club or clubs. With every club purchase, you are automatically enrolled into our Club Partnership, which entitles you to the following benefits:
Entry into prize draw
Discounted re-grips
Discounted club gapping and ball fit session on TrackMan (identify the best ball for your game)
Discounted balls
Repairs
We also provide a comprehensive repair service including re-grips, re-shafts, re-furbishing of old wooden clubs, loft & lie checks and changes. All carried out with care in a timely manner.